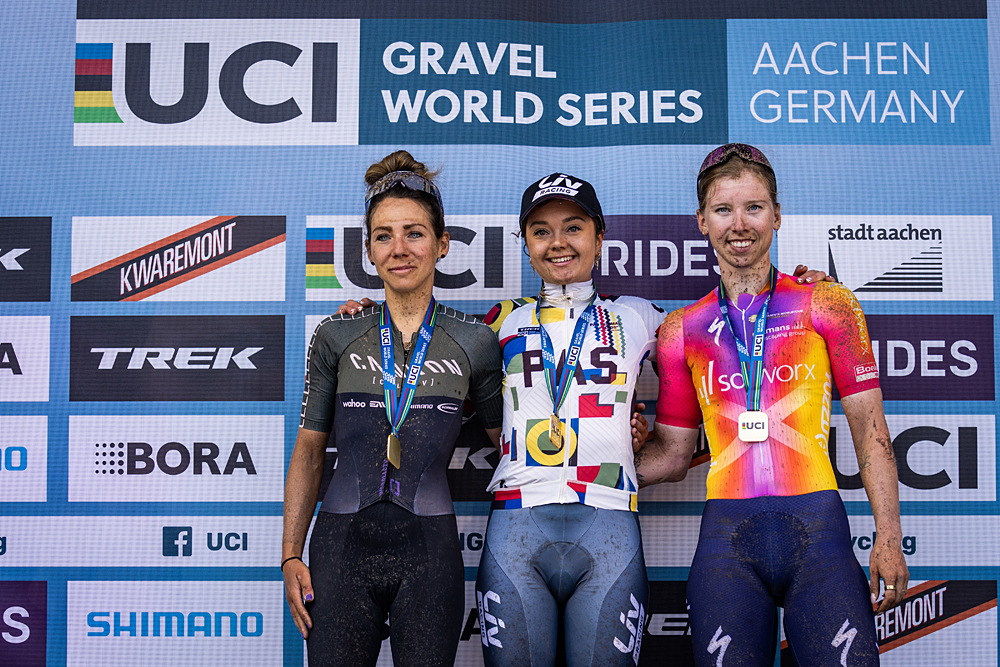 Tessa Neefjes (LIV Racing) and Paul Voß (AUTˈSAID) claimed victories within the sixth spherical of the UCI Gravel World Collection in Aachen, Germany on Saturday.
The 3RIDES occasion, one in every of 16 qualifiers for the UCI Gravel World Championships, came about on a demanding 18.5-kilometre circuit and each winners had solely small margins on the line.
Neefjes out-sprinted Carolin Schiff (Canyon) to assert the ladies's title, whereas Voß attacked to win the boys's by one second over Joris Nieuwenhuis (Baloise-Trek) and Daan Soete (Deschacht Hens Maes CX Crew).
Schiff was on the assault till the ultimate lap when Neefjes attacked on a climb, dropped WorldTour sprinter Lorena Wiebes (SD Worx) and bridged throughout simply earlier than the end. Neefjes proved the quickest on the line, whereas Wiebes held on for third, 4 minutes adrift.
"It was a brilliant beneficial win for me," mentioned Neefjes, "I believed I used to be going to complete second at the moment – after which I caught Carolin on the final nook." Beforehand, Neefjes had not anticipated to win. "The sphere was tremendous robust, so it was completely shocking for me at the moment," Neefjes mentioned. 
Voß is focusing on Unbound Gravel this season and was stunned to take the win. "I had issues in between and was actually struggling," he mentioned. "So I let loose a fairly loud cry of emotion on the end line. Driving away solo was not possible right here, it was a really quick race regardless of the rain of the earlier days."
Gravel World Champion Gianni Vermeersch (Alpecin-Deceuninck) began however didn't end together with well-known former racers Andre Greipel, former cyclocross world champion Erwin Vervecken, 
Outcomes – Males
Swipe to scroll horizontally
| | | |
| --- | --- | --- |
| 1 | Paul Voß (Ger) AUTˈSAID | 3:37:12 |
| 2 | Joris Nieuwenhuis (Ned) ZELHEM | 0:00:01 |
| 3 | Daan Soete (Bel) Grobbendonk | 0:00:01 |
| 4 | Ryan Christensen (NZl) Bolton Equities Black Spoke Professional Biking | 0:00:04 |
| 5 | Eli Iserbyt (Bel) Pauwels Sauzen – Bingoal | 0:00:04 |
| 6 | Juri Hollmann (Ger) Movistar Crew | 0:00:11 |
| 7 | Ryan Kamp (Ned) Pauwels Sauzen – Bingoal | 0:02:13 |
| 8 | Jasper Ockeloen (Ned) Canyon | 0:02:14 |
| 9 | Matthias van Roy (Bel) Cycle Ardour – SCOTT Racing Crew | 0:02:15 |
| 10 | Jan Bakelants (Bel) Vorselaar | 0:02:15 |
| 11 | Seppe Rombouts (Bel) RB Zelfbouw UCT | 0:02:22 |
| 12 | Thomas Joseph (Bel) Tarteletto Isorex | 0:03:56 |
| 13 | Arne Vrachten (Bel) Acrog-Tormans Balen BC | 0:03:56 |
| 14 | Kevin Panhuyzen (Bel) Big Liv Benelux offroad group | 0:03:57 |
| 15 | Joes Oosterlinck (Bel) EFC-L&R-Van Mossel | 0:05:51 |
| 16 | Thijs Zonneveld (Ned) BEAT CYCLING CLUB | 0:06:08 |
| 17 | Jan-Ole Zilse (Ger) ROSE Racing Circle | 0:06:11 |
| 18 | Julian Siemons (Bel) Van den Plas – HePa Biking Crew | 0:06:27 |
| 19 | Daan Grosemans (Bel) 2440 | 0:06:32 |
| 20 | Mathijs Loman (Ned) HEERLEN | 0:07:36 |
| 21 | Luis Neff (Ger) ROSE Racing Circle | 0:07:58 |
| 22 | Noah Neff (Ger) ROSE Racing Circle | 0:07:59 |
| 23 | Adam Adamkiewicz (Pol) STREFASPORTU.PL MW INVEST | 0:08:05 |
| 24 | Jens Debusschere (Bel) Yaro-Belisol | 0:08:15 |
| 25 | Patrick Haller (Ger) Patrick Haller GRAVEL | 0:08:23 |
| 26 | Tim Feinauer (Ger) ROSE Racing Circle | 0:08:26 |
| 27 | Jules Redois (Fra) Vélo Membership Verrois | 0:08:30 |
| 28 | Ivar Slik (Ned) Wilier Manufacturing facility Racer | 0:08:41 |
| 29 | Piotr Havik (Ned) The Hawk | 0:08:59 |
| 30 | Nils Correvon (Swi) Lausanne | 0:09:12 |
| 31 | Christopher Hatz (Ger) Heizomat Radteam p/b Kloster Kitchen | 0:11:02 |
| 32 | Tim Wollenberg (Ger) Santic-Wibatech | 0:11:19 |
| 33 | Luca Bockelmann (Ger) Bremen | 0:11:46 |
| 34 | Marcel Meisen (Ger) Stevens Racing Crew | 0:11:46 |
| 35 | Erik Aagaard (Den) Middelfart Cykle Membership | 0:12:07 |
| 36 | Sebastian Breuer (Ger) Crew Lenas Espresso Model | 0:12:14 |
| 37 | Jonas Orset (Nor) The Nordic Trailblazer | 0:12:14 |
| 38 | Michael Mottram (GBR) Wallingford | 0:12:20 |
| 39 | Tim Diederich (Lux) TEAM SNOOZE | 0:12:30 |
| 40 | Michael Gaßner (Ger) RSV Moosburg | 0:12:47 |
| 41 | Christian Kreuchler (Ger) Mobil-Krankenkasse Biking Crew | 0:12:55 |
| 42 | Philip Meiser (Ger) Bike Assist | 0:12:55 |
| 43 | Stan Godrie (Ned) Zundert | 0:13:42 |
| 44 | Jef Knevels (Bel) ODB Biking Crew | 0:13:49 |
| 45 | Jo Pirotte (Bel) Uct biking group | 0:13:53 |
| 46 | Lukas Riepe (Ger) Leeze Manufacturing facility Racing | 0:14:48 |
| 47 | Tomas François (Bel) cp scott | 0:14:48 |
| 48 | Bram Rombouts (Bel) Wuustwezel | 0:14:49 |
| 49 | Massimo Vanderaerden (Bel) Specialised WorkforCe | 0:15:01 |
| 50 | Loorin Bastiaens (Bel) Tielen | 0:15:16 |
Outcomes – Girls
Swipe to scroll horizontally
| | | |
| --- | --- | --- |
| 1 | Tessa Neefjes (Ned) Liv Racing Collective | 4:07:00 |
| 2 | Carolin Schiff (Ger) CANYON CLLCTV | 0:00:00 |
| 3 | Lorena Wiebes (Ned) Crew SD Worx | 0:04:00 |
| 4 | Annabel Fisher (GBR) Féchy – Vaud | 0:06:43 |
| 5 | Rosa Klöser (Ger) Frederiksberg | 0:10:53 |
| 6 | Jade Treffeisen (Ger) Crew Embrace The World Biking | 0:11:22 |
| 7 | Nele Laing (Ger) PZ Gießen Racing Crew | 0:11:28 |
| 8 | Lea Lützen (Ger) Kandie Gang | 0:13:15 |
| 9 | Femke de Vries (Ned) GT Krush Rebellease | 0:14:52 |
| 10 | Maïté Barthels (Lux) Hess Biking Crew | 0:16:36 |
| 11 | Kirstie van Haaften (Ned) Parkhotel Valkenburg | 0:20:03 |
| 12 | Lisa Wörner (Ned) No Borders Gravel | 0:20:38 |
| 13 | Mira Winkelhag (Ger) One World Crew | 0:20:57 |
| 14 | Ruth Decuypere (Bel) KDM-PACK CYCLING TEAM | 0:20:58 |
| 15 | Anni Lange (Ger) / cykelbutik.cc | 0:22:27 |
| 16 | Melanie Hessling (Ger) OSG Dortmund | 0:22:30 |
| 17 | Sam Sandten (Ger) Bike Assist/ Pearl Grinders | 0:23:55 |
| 18 | Lovisa Nyman (Swe) Crew Kalmarsund CK | 0:24:05 |
| 19 | Amelie Zimmermann (Ger) Crew Baden-Forchheim | 0:24:05 |
| 20 | Anna Kollmann-Suhr (Aut) Sufficient Biking | 0:24:49 |
| 21 | Yvonne de Vet (Ned) JEGG-DJR Academy | 0:26:06 |
| 22 | Joyce Vanderbeken (Bel) Bike Recommendation CT | 0:26:10 |
| 23 | Eltina van Wijk (Ned) Krimpen aan den IJssel | 0:28:30 |
| 24 | Terry Fremineur (Bel) The Racing Homers | 0:29:09 |
| 25 | Sara Michielsens (Bel) Crankbrothers Racing Crew | 0:29:10 |
| 26 | Hanneke Weel (Ned) Arnhem | 0:31:54 |
| 27 | Simone Terheggen (Ger) Bocholter WSV | 0:32:52 |
| 28 | Marie Lagershausen (Ger) Crew Embrace The World Biking | 0:33:36 |
| 29 | Dieske Kruisselbrink (Ned) JEGG-DJR Academy | 0:34:10 |
| 30 | Marie Schwindenhammer (Fra) saint genis pouilly | 0:35:58 |
| 31 | Dana Wagner (Ger) Unhealthy Soden-Salmünster | 0:38:55 |
| 32 | Katharina Garus (Ger) Scuderia Südstadt | 0:41:12 |
| 33 | Juline Delcommune (Bel) Wilink offroad colnago | 0:41:49 |
| 34 | Saartje D'Hauwe (Bel) Sint-Lievens-Houtem | 0:42:37 |
| 35 | Valeska Kröll (Ger) Crew Roar | 0:43:15 |
| 36 | Anna Scheffler (Ger) RC Sprintax Bielefeld | 0:43:51 |
| 37 | Katleen Luypaert (Bel) Granfondoteam.be | 0:44:07 |
| 38 | Heleen Kibbelaar (Ned) WTC de Amstel | 0:44:42 |
| 39 | Anna Lange (Ger) RSC Oldenburg | 0:44:43 |
| 40 | Isabelle Beckers (Bel) Café du Cycliste | 0:44:43 |
| 41 | Lydia Iglesias (Esp) Café du Cycliste | 0:44:57 |
| 42 | Viktoria Dehler (Ger) Radfreunde Hilpoltstein | 0:44:58 |
| 43 | Maria Gudmundsdottir (Isl) Café du Cycliste | 0:47:42 |
| 44 | Ennia Ballardini (Bel Zandhoven | 0:48:30 |
| 45 | Esther van der Burg (Ned) Expertise Biking | 0:48:30 |
| 46 | Eleonora Gennaro (Ita) A.S.D. SCAVEZZON SQUADRA CORSE | 0:52:12 |
| 47 | Katja Elena Hermann (Ger) Eintracht Frankfurt Radsport | 0:54:42 |
| 48 | Miram Gerwig (Ger) RC Villingen | 0:58:18 |
| 49 | Anna Giesen (Ger) RSV Gütersloh 1931 e.V. | 0:58:29 |
| 50 | Daniela Zoll (Ger) TV Hülsenbusch | 0:59:39 |